When: May 14, 2022
Where: Dan Henderson's Athletic Fitness Center
Cost: $125. Registrations close May 7th
Register HERE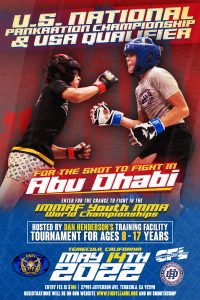 USFL License is required to participate 
The Official U.S. National Championships for Youth MMA/ Pankration. Profits benefit the U.S. Youth World MMA team. USA has been top 3 in the world for both UFC Sponsored IMMAF Youth MMA World Championships.
WEIGH IN / CHECK IN/ GEAR INSPECTION/ PRE-BOUT MEDICAL SCREENINGS:
Bring competition gear to include uniform and proof of medical clearance to check in.
Night Prior: Friday May 13th at Venue 4PM – 7PM
Late Check in: Saturday at venue 7:30AM – 8:30AM
Mandatory athlete meeting at 10am for all athletes to ensure brackets are correct, relay info & notify of options to change divisions. Rules meeting to follow.
Tournament start time: Estimated 12 noon
SPECTATORS 
$20 at door only (Under 4 yrs free)
Coaches must have USFL digital ID to get in as a coach
FORMAT
This tournament will select the official U.S. Youth team for the 2022 IMMAF World Youth MMA Championships in Abu Dhabi (tentatively set for 1st week of Aug 2022). (World Championship divisions are only for ages 12-17)
Age for divisions for 8-11yrs are actual age on day of tournament
Age for divisions 12-17yrs are that of day 1 for the World Championships. Example: if you are 11 but turn 12 by day one of the World Championships in Aug, you will register and compete in the 12/13 year old category. This is regardless of plans to participate in World Championships or not. 
Athletes 17 yrs at time of National Championships but 18 for world Championships may compete at nationals but not for the World Championships.
Non U.S. citizens or those unable to obtain a US passport may compete in national championships but not participate in the world championships as part of Team USA. U.S. Citizens who previously competed as part of another nations national team will not be eligible for U.S. team membership unless they can demonstrate extreme circumstances.
Dates for the 2022 IMMAF World Youth MMA Championships to be announced soon.
COMPETITION FORMATS:
Bouts will occur in MMA Cages. Two cages will be set up.
Preliminary bout of Single Round Matches (3 minutes for ages 8-13yrs / 4 minutes for ages 14-17yrs)
Athletes with only 2 competitors will compete in a single bout of 3 rounds of 2 minus.
Double elimination w/ loser having a chance to comeback for Bronze/ 3rd (4 or more entries) Not true 1st or true 2nd
Seeding may occur if enough information on athletes is available.
Round Robin- All contestants compete against each other. The following criteria will be used to place entries if a 3 way tie. 1. Most submissions 2. Most Points Earned  (3 entries)
Single Bout of 3 rounds – If both athletes go straight to finals.
Uncontested Champions (Single Athlete Divisions) will have the option to move up in weight or age to participate in a 2nd category. (Must be within USFL age and weight parameters)
NO SPECIAL REQUESTS OR ACCOMMODATIONS OUTSIDE THE LISTED RULES